REPAIRS & MAINTENANCE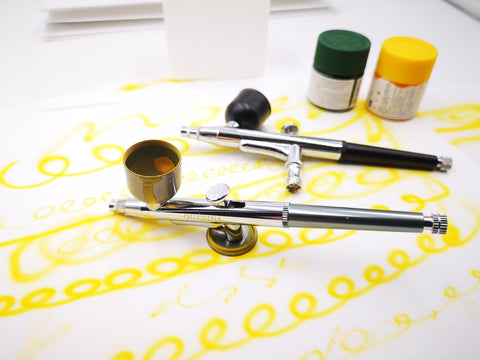 What is an airbrush?
An Airbrush consists of three parts: nozzle, nozzle cap, and needle. That connects to an air compressor to atomize the paint into liquid droplets, which are sprayed onto the surface of the object under the airflow.
Cautions:
● The paint/liquid used in the airbrush must be water-based
products (highly concentrated products must be diluted).
● Inject and spray with alcohol or water before use (clean the
inner surface of the airbrush).
● The airbrush must be cleaned with a cleaning solution after use.
● Do not let the paint/liquid sit in the cup for a long period of time
(to avoid product solidification and blockage for the airbrush).

Reasons for not spraying?
1. The product concentration is too high (please dilute it to watery or milk consistency or use airbrush thinner to dilute the liquid).

2. The airbrush gun is dirty and blocked (please clean in time).

3. Also check that the nozzle cap, spring guide, and chucking nut are tightened. (Please check ''FIND AIRBRUSH PARTS'').
4. Do not let the paint/liquid sit in the cup for a long period of time (to avoid product solidificationand blockage for the airbrush).
Blowing bubbles between the nozzle cap and the main body?
O-ring temporary fix: Use pink plumbers tape and remove the washer, cut an appropriately sized piece of tape, and hand tightened.
Note:
After use, please turn off the air Compressor, clean the airbrush immediately and keep it dry. (please use alcohol or airbrush cleaner)
Cleaning:
 1. Pour out excess paint/liquid after use.
 2. Please use cleaning solution and pour into airbrush cup.
 3. Use brush to clean the inside of the cup.
 4. Spray out cleaning solution to clean the inside of the spray gun.
 5. Wipe it clean and please keep it dry.
 6. If you are intending to storge for a long period of time, please disassemble the spray gun and clean it thoroughly before storage.
Compressor Maintenance:
Please fully charge the compressor for the first time uses.
Air Compressor takes 1.5 hours to fully charge and can be used for 1 hour.
Charging plug: Red light-Charging, Green light-Fully charged.
The air compressor must be fully charged once every month at least during storage to protect the battery.
FIND AIRBRUSH PARTS: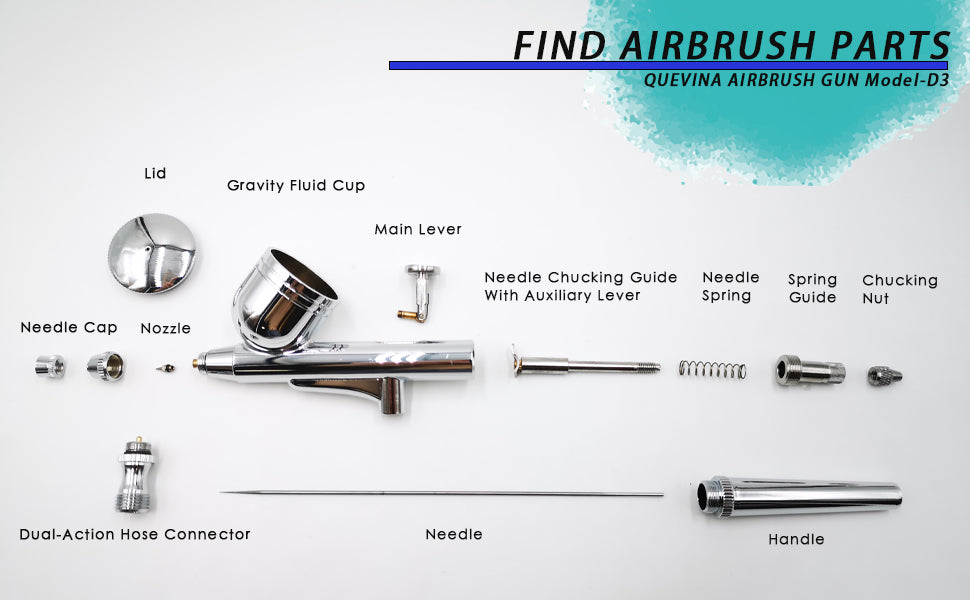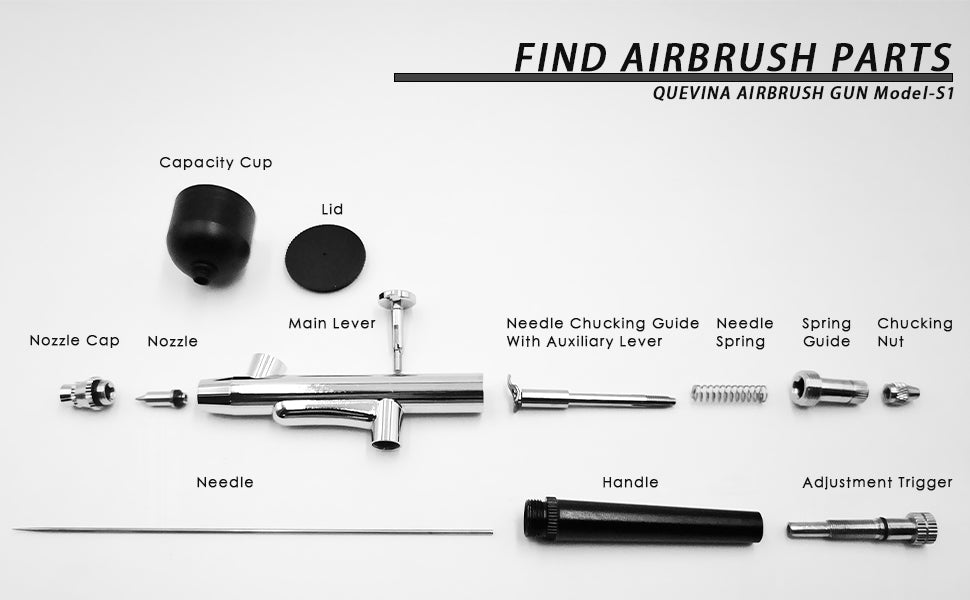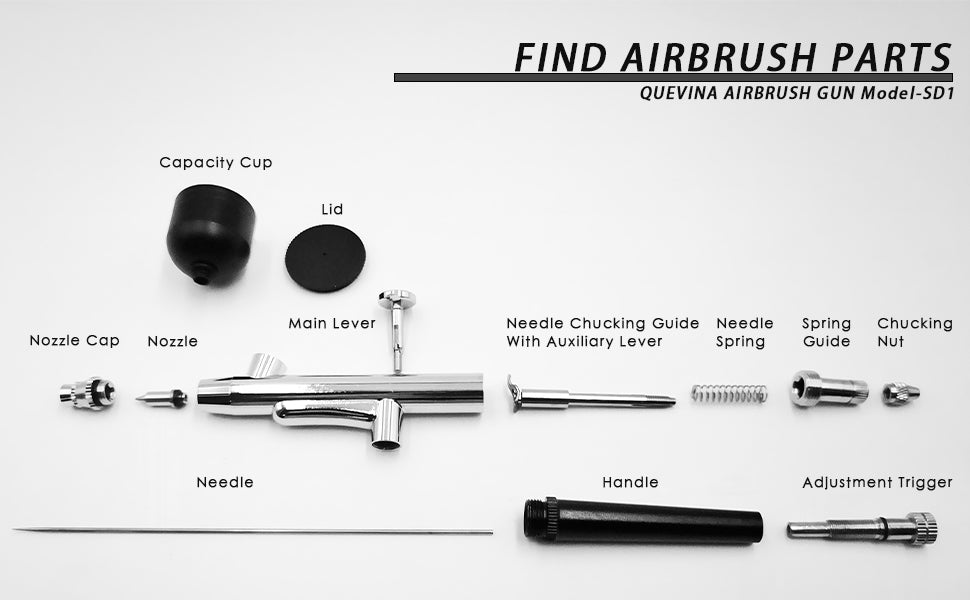 QUEVINA airbrush gun is suitable for professionals and beginners, and advanced artists since it works excellent for most airbrushing applications and also with most types of paint spray media. The needle/nozzle for spraying all mediums, inks, dyes, watercolors, acrylics, enamels, lacquers, glazes, latex, Automotive Urethanes, Lacquers, and Enamels.